Androgyny – from female point of view
Curated by Yuan Yuan Jin
Featured Artists: Eponine Huang, Yang Yan Yuan, Hu Wei Shan, Li An Qi, Bi Jia Qi, Zoe Yao, Currisa Cheng, Vaivai Von, Yang Mu, Li Xin Yu
Androgyny – from female point of view
策展人:金媛媛
参展艺术家:黄楚桐、杨燕媛、胡韦珊、李安琪、毕嘉奇、姚佳敏、郑怡格、翁甜甜、阳莯、李昕瑜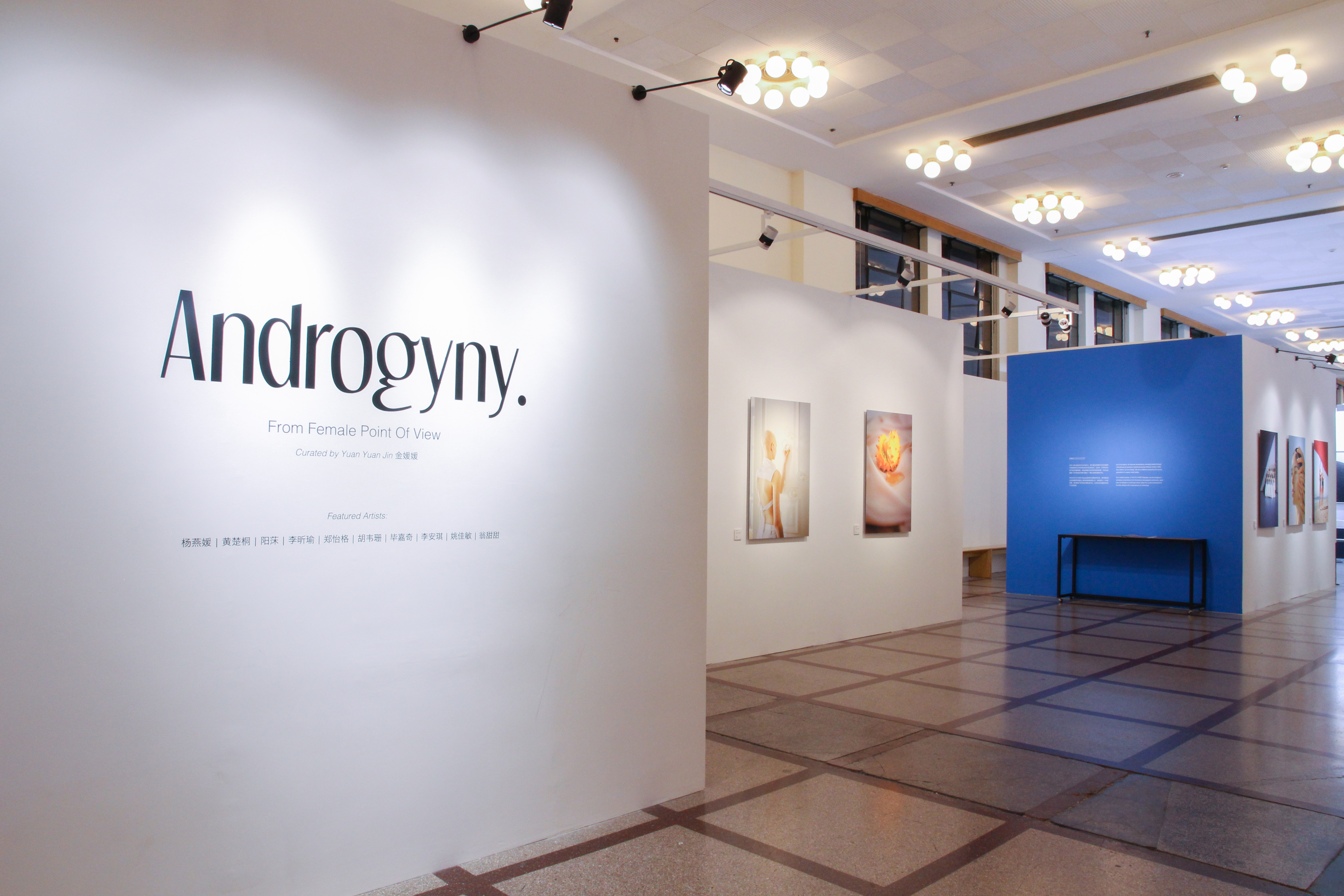 Photographer – Yang Yan Yuan
Yanyuan Yang, originally from Jiangxi, is currently based in Shanghai. Having graduated from Guangzhou Academy of Fine Arts, her academic background in painting gives her an edge in color sensitivity and enables her to construct a unique storyline filled with beauty in her photographic works.
杨燕媛, 江西人,现生活与工作在上海。毕业广州美术学院。
她的绘画经历让她对色彩非常的敏感,善于捕捉色彩的变化,使她的作品像是在讲述一个独特又美丽的故事。
Photographer – Eponine Huang
Eponine studied the bel canto in the Affiliated High School of China Conservatory of Music and then went to the New York Film Academy for the bachelor degree in Filmmaking. Under the influences of the classical music and the dancing art, her images contain multiple styles of the contemporary art with a boldness but still being precise, and being romantic but with the restive attitude. Her grasp in colour is strong but accurate. She is good at handling the lights and observing the expressions of girls. We can discover the new-generation photographers' angle of views from her work. Her work has been published on the home page of the Italian Vogue official website several times. Being as one of the fashionable new-generation leading figures selected by the ELLE China for the 28th-anniversary special issue.
她是当今时尚摄影的新生力量,她进入时尚摄影圈仅一年便成为被Vogue、Elle、Nylon、InStyle等各大时尚杂志争相追捧的现象级年轻摄影师。她形容自己的摄影风格是一种理性中包裹着感性,有规矩的浪漫。这样的说法也非常适合黄楚桐本人的个性,拥有着年轻女孩的甜美和倔强,但却用极为成熟且严格的标准对待自己喜欢的事物。她总是轻易的便发现被摄对象身上闪耀的特质,对人物肢体的引导,色彩的把控以及光线的感知力,更让她每一张摄影作品的氛围恰到好处的呈现。饱含情感的温度,她以一种自由又不失细腻的方式,为我们呈现了一个又一个当下的流行元素和人物。
Photographer – Hu Wei Shan
Born and raised in Guangzhou, Hu Weishan is a recent Fashion Photography graduate from London College of Fashion. Before London, she studied Styling and Art Direction for three years in LASALLE College of the Arts, Singapore. Her knowledge of fashion, art direction and photography is seamlessly translated into her photography works.
Meanwhile, being a Gen Z, she is fascinated by the post economic reform era, in which the definition of aesthetics was more dynamic than ever. Therefore, her reminiscence and re-interpretation for the post-reformation in the Chinese society have become a vital element in her works.
胡韦珊,24岁,广州人,刚毕业于伦敦时装学院时尚摄影专业。在去伦敦之前,她曾在新加坡拉萨尔艺术学院学习造型与美术指导相关专业。这段经历时常体现在她的摄影作品中,因为她始终认为:时装和美术指导以及摄影这三者之间,往往是密不可分的。
与此同时,作为一个90后,她对后改革开放时期活力四射且雅俗共赏的中国社会尤其着迷,因此,对于这个年代的回忆和重塑(re-interpretation) 曾以多种方式在她的作品里出现。
Photographer – Currisa Cheng
Currisa, born in 1990, she currentlyy resides in Shanghai. She graduated from University of the Arts London, majoring in Styling and Photography.
Her work reflects the aesthetic of daily life. As for fashion photography, she is still looking for the balance between 'art'and 'documentary', hoping to express the cultural information of fashion.
Currisa Cheng现居上海,毕业于伦敦艺术大学时装学院造型与摄影专业,毕业后与嘉人、周末画报、Nylon、OK精彩!YOHO!Girl、T Magazine等杂志合作。个人倾向于生活感和朴实的审美,对于时装的拍摄这件事,目前还在"艺术化"和"纪实化"中寻找平衡,但希望更多地致力于表达出时装的文化性信息。
Anqi Li, born in 1993, is a fashion photographer, based in Shanghai. She excels at mixing fashion aspects with story-telling elements into her work, which highly differentiates them from others'. Her main inspirations derive from movies, literature and paintings.
李安琪是一名时尚摄影师,常驻上海。擅长将时尚和故事性融入到作品中,使其作品极具辨识度。她的灵感大多来自电影、文学故事以及绘画。在她的照片中,可以看到鲜明的人物形象,清晰的动作语言和明快的色彩。
Jiaqi Bi, born in 1992, she currently living in Shanghai.
Jiaqi Bi is an artist, creative director, photographer and fashion influencer. Born in Shandong, she moved to America in 2013 to earn a BA from University of Michigan. In 2016, she moved to New York and connected with creatives and brands from all over the world.
Jiaqi Bi believes that an image is a window for emotional expression and deep thinking. She expresses the vulnerability and strength of individuals, by often using the colorful raw beauty of youth.
毕嘉奇,女,生于1992年,现居上海。
本科毕业于美国密歇根大学,获艺术设计与艺术史双学位。2016年移居纽约,展开时尚摄影的创作与实习。
嘉奇相信图像是一种情绪宣泄与鼓励思考的窗口,也相信人类情感的共通性,她习惯通过一种冷静而大胆的手法去挖掘潜藏在人物内在的坚强而柔软的情绪。她的拍摄角度年轻与时尚,拍摄风格自然真实不做作,注重于色彩的表现。
Zoe Yao, born in 1995, originally from Wuxi, Jiangsu, is now based in Shanghai. She graduated from University of Jiangsu, majoring in Fashion Design. Later, she studied her master's for photography in London College of Fashion.
1995年生,江苏无锡人,本科就读于苏州大学服装设计与工程专业,毕业后于伦敦时装学院时尚摄影专业攻读硕士。擅长关于色彩的视觉游戏。
Photographer – Vai Vai Von
VaiVon, attended Beijing Film Academy in 2015 and earned a Bachelor's degree in commercial photography with excellent grades and achievements in 2019. She lives and works in Shanghai and Beijing. Von's creative arts are based on her personal life experiences and aesthetic prospectives.
北京电影学院摄影学院本科毕业,目前居住并工作于上海和北京。创作基于日常生活积累的个人审美体验。以平面摄影,动态影像等多种艺术媒介展开独立性探索,实现多维度的扩展创作。
Mu Yang, born in 1991, she is now live and work in Sichuan.
She graduated from Trinity College, film studies major, Bachelor of Arts. Now, she is studying at California College of the Arts for photography.
Yang's work mainly includes photography, film and short videos, mixing with influences from various backgrounds, involving family history, natural disaster, and mountain spiritual ambiance of South West, also appropriating and collaging other people's visual constructive behaviors and existing collective visual experience. She is now still interested in how human anchor individual position within fragile image, protecting one's own will, and experiencing the passion and failure of illusion.
阳莯,⼥,⽣于1991年,现⽣活和创作于四川
2013年毕业于美国三⼀学院电影研究专业,获艺术学⼠学位
⽬前就读于美国加州艺术学院摄影系
阳莯的作品主要包括摄影,录像,短⽚等,其中糅合不同的背景影响,包括家族过往与⾃然灾变,西南的⼭灵氛围,并挪⽤拼接他⼈的视觉构建⾏为和已存有的集体视觉经验。她⽬前仍感兴趣于⼈如何在脆弱的图像中锚定个体的位置,庇护⾃⼰的意志,体验幻想的激情与失败。
Mountain Spring, 2019
Haiku is a series of repetitive videos; put in order to split a seemingly meaningless behavior one by one and then to infinitely prolong it within the merging of emotions. It learns from flash-fiction, haiku, 15 seconds of flash videos on the Internet platform, and many other forms. At the same time, it echoes with the concept of 'cut' from photography, giving suspended moment for motional photography, so to test the space and character within the limit of 'cut' and the undercover absurdity of repetition.
Haiku "Mountain Springs" written by my friend (Translated)
Liu Lili runs to the hillside
Scratches herself for a while
And then she finally, climbs down from the mountain
《俳集》之山泉,2019
《俳集》是⼀系列具有循环意味的短⽚,旨在拆分⼀个个看似⽆意义的单⼀⾏为,将它⽆限绵长在情绪的杂糅中。 它借鉴了微型⼩说(flash-fiction),⽇本俳句,当今⽹络平台的15秒快闪视频等多种形式,同时呼应摄影的"切⽚"概念,为动态摄影赋予悬质,从⽽来测试 切⽚局限下时空与⼈物在瞬间与重复中暗藏的荒诞。
山泉来自我朋友写的俳句,山泉·Σ
刘莉莉跑上山坡
挠了自己好一会儿
才下山
Visual Artist – Li Xin Yu
Xinyu Li, born in 1994, is based in New York and Guangzhou.
She Graduated from School of the Art Institute of Chicago, major in Fine Art. Currently, she is studying at Rhode Island School of Design for Master's degree of Digital & Media. Like to record their dreams and their works combined, with a strong personal style and unique interpretation of things.
李昕瑜,女,生于1994年,长居纽约与广州。
本科就读于芝加哥艺术学院纯艺专业。目前攻读罗德岛设计学院数字媒体硕士学位。她喜欢记录自己的梦境并于自己的作品相结合,有着强烈的个人风格和对事物独特的解读。
,2019
The film is divided in three parts.
Part One, Realizing one's own difference.
When faced with gender dysphoria, a black robe is worn, hiding one's identity. The entity is seen wandering around the city, wishing to release their repressive emotions.
Part Two, Desire to be secluded within nature.
To peel the clothing labelled with gender stereotypes, going as far as even to peel one's own skin – in order to find the most 'real' appearance in the forest.
Part Three, The end of despair.
Even though the heart follows the androgynous rhythm, the repression from current reality never brings about the desired ending. As if being strangled by a serpent, will one reach wonderland after being suffocated?
The answer is still unanswered.
,2019
影片主要分为三个部分
第一部分,发觉自己的不同。
当意识到对单一性别认同产生障碍时,便穿起黑袍,隐藏身体的曲线,在城市四处游走着,希望能释放掉压抑的情绪。
第二部分,想要隐归于自然。
索性剥去被标签性别的衣物,甚至剥去自己的外皮,在丛林中寻找最真实的样子。
第三部分,绝望的终章。
虽然本心是雌雄同体,但现实的压迫总不会带来美好的结局。像是被毒蛇被扼住喉咙,窒息过后能瞥见美好的幻境吗?
答案仍是无解的。
YYO Foundation 特邀十位女性艺术家以及Lofi主编陈星如带来主题 Androgyny:from female point of view 讲座